"Is he friendly?"
If you own a dog, you've been asked this question.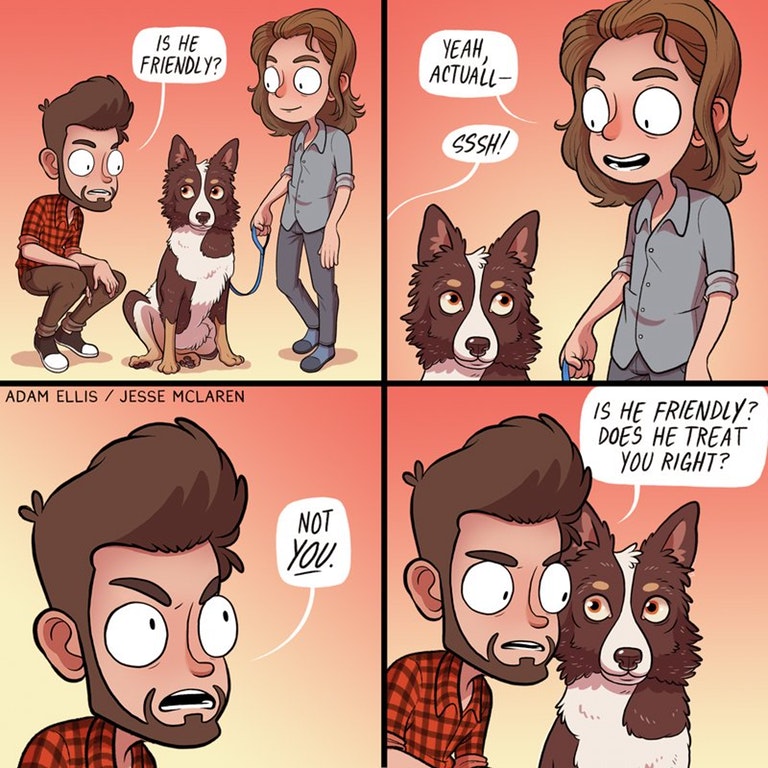 If you own a perfectly social dog who enjoys meeting new dogs and new people, you've probably never given this question a second thought (or, you've felt a little swell of pride as you happily responded, "Yes, very!").
But what about all the owners of dogs who are fearful or uncomfortable with new people, new dogs, or new situations? The dogs who may cower or growl, lunge or snap, or even bite, if an unfamiliar person or dog invades their personal space too quickly?
For the owner of a fearful, frustrated, or anxious dog, those three small words – "Is he friendly?" – pack an emotional wallop: a rush of apprehension, a fretful look down at their beloved dog (the one who greets them every morning with a fiercely wagging tail and a million kisses), a tentative and sometimes apologetic "sort of/not really" response, and a hope that the person who asked the question will be gracious and just move along.
Because when a stranger asks, "Is he friendly?" what this owner hears is, "Is he a nice dog or a mean dog?" or, "Is he a good dog or a bad dog?" And that stinks. Because it feels terrible to say, "No, he's not friendly," and to feel like a complete stranger thinks your dog is mean, or bad, or poorly trained. And, because your dog can absolutely be a nice, good, friendly dog AND be uncomfortable meeting new people or dogs in certain situations.
We meet and work with these nice, good, friendly dogs all the time. They're awesome and smart and silly. They love to play with toys and eat yummy treats. They enjoy pets and scratches and snuggling up on the couch with the people or dogs that they know and love. They just need a little (or a lot of) extra time to get familiar with new people and dogs, and they are most comfortable avoiding random interactions with strangers when out and about.
Change the Question
If you're a person who has asked, "Is he friendly?" don't feel too badly. We've ALL done it, and most likely, your intention was never to make anyone upset! The next time you spot a dog and owner who look like they might enjoy interacting with you, try something like this instead:
"Does your dog enjoy saying hello to new people, or would he prefer if I just let him do his own thing?"
We ask this, or something similar, when dogs and owners come to our facility for initial consultations. It puts the emphasis on what the dog wants, and specifically asks whether the dog likes meeting new people or dogs. It doesn't call into question the dog's overall friendliness. It also includes an alternative that is easy for the owner to choose ("he'd prefer to just do his own thing") without having to directly tell you "No, he can't say hello."
If the above option feels a little wordy for you, try something like, "Would he like to say hello, or is he busy?"
Listen to the Owner and the Dog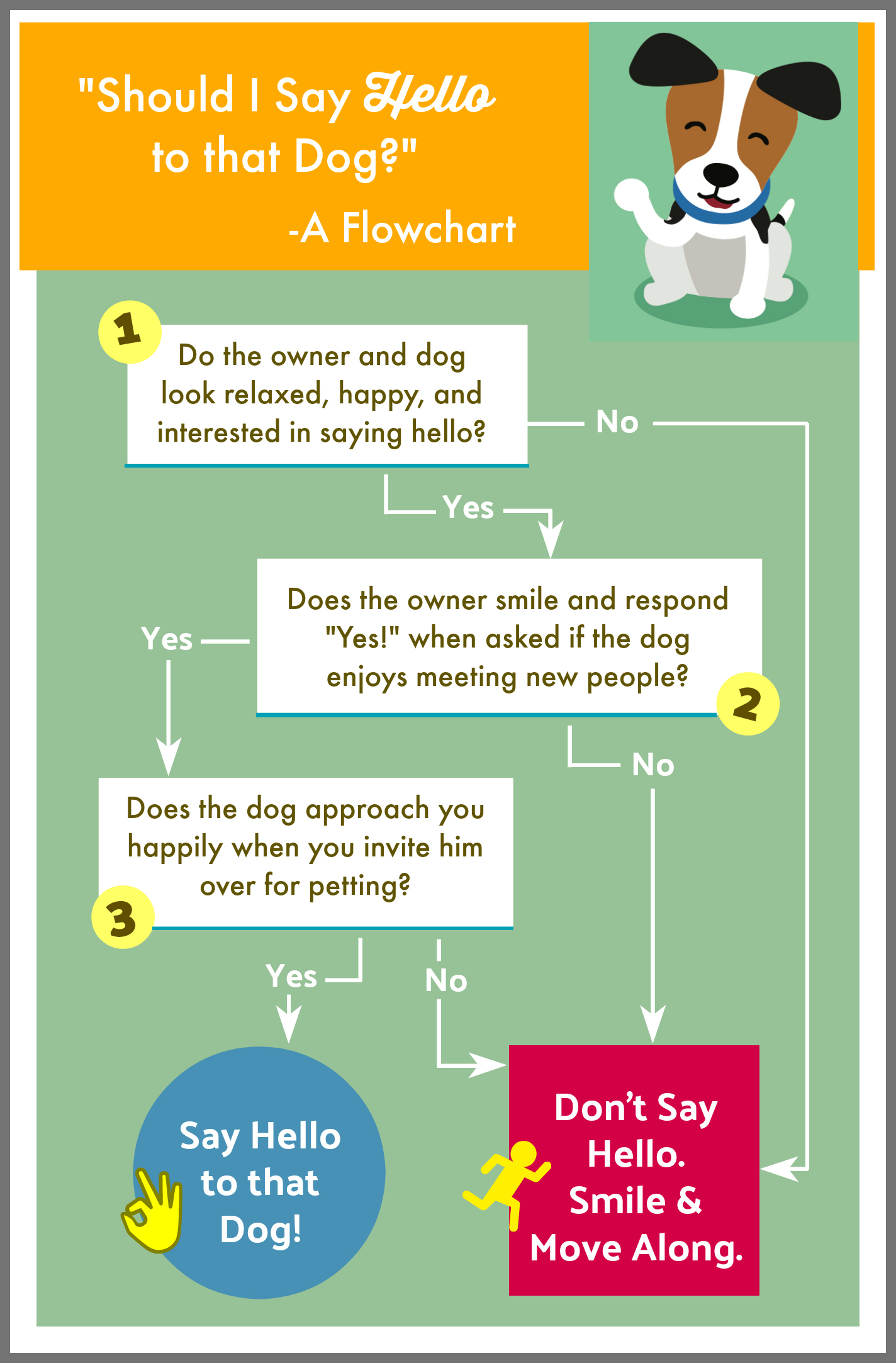 Regardless of how the owner answers your question, be respectful of the dog, and of the owner's response.
If the owner says, "Yes! He loves meeting new people," invite the dog to approach you. If he approaches happily, pet him for a few seconds and then stop. Avoid leaning over, hugging, kissing, roughhousing, or staring into his eyes (these things can make even the most confident dog feel uncomfortable). If, when you stop petting him, the dog solicits more attention, repeat petting for a few seconds, then stopping. If you invite the dog to approach and he stays where he is, ducks or turns his head, or moves away from you, just smile kindly at the owner, tell them their dog is lovely, and continue on your way – this dog has just told you that he's not interested in saying hello right now 🙂 .
If the owner says, "Nah, he'd rather not," then smile, say "Okay, no problem!" and move along. Don't stare at the dog and try to talk to him; don't say that you're 'a dog person' so it'll be fine; and don't ask why you can't say hello. Just be genuinely happy that this very lucky dog has an owner who is advocating for his comfort and wellbeing.
–Dedicated to all of the nice, good, friendly dogs we have the privilege of meeting, who just need a little extra time and space around new people; and to all of their incredible owners, who advocate for their dogs every single day, even when it's difficult.
Happy Training!
Sarah Fraser, CDBC, CPDT-KA, KPA-CTP
Co-Founder