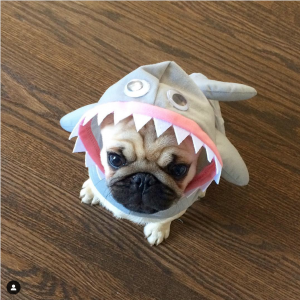 Puppies. So soft and cute. So snuggly and playful. And sometimes, SO BITEY. While 99.5% of puppy biting isn't meant to cause us harm, those needle-sharp teeth can still really hurt! It's not surprising that puppy biting is a behavior many owners want to curb ASAP.
A certain amount of bitey, mouthy behavior is an expected part of puppyhood. But, there are some common reasons puppies display biting and mouthing behaviors beyond just normal puppy development. The good news? Once you know the reasons, there are some simple adjustments you can make to decrease those bitey behaviors AND help your puppy feel better at the same time. It's a win-win!
Read on for 6 common reasons 8- to 20-week-old puppies sometimes act like pint-sized landsharks.
#1. They are TIRED
Being overtired is one of the most common reasons we see puppies exhibit overly bitey and nippy behavior. Young puppies need 16-18 hours of sleep each day. Much like a human baby or toddler, puppies get fussy and cranky when they are tired, but they don't yet have enough self-awareness to recognize they need a nap to feel better.
How You Can Help Your Puppy:
Give your puppy scheduled rest periods and quiet times throughout the day
If you have a very lively, active household, make sure your pup's resting place – whether a a crate, an exercise pen, or a gated, puppy-proofed room – is in a quiet, low traffic spot where they won't be constantly disturbed by household commotion.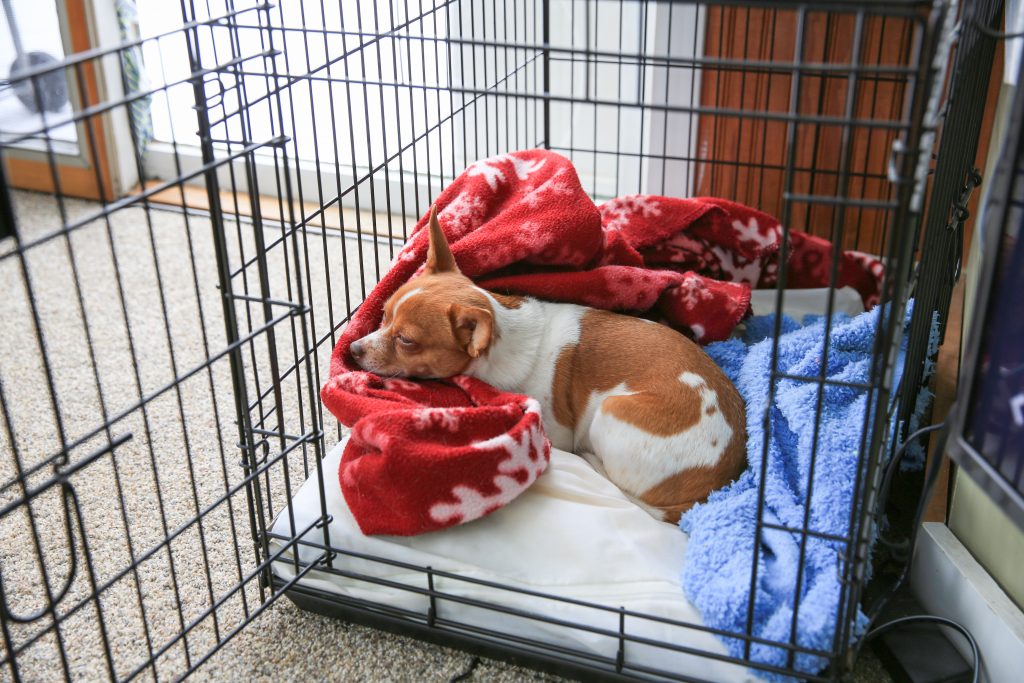 #2. They are OVEREXCITED
Young puppies have not yet learned to regulate their emotional arousal. When then become overly excited or aroused, they start to lose inhibition and self-control, which leads to them getting extra bitey.
How You Can Help Your Puppy:
Imagine your pup's excitability on a scale of 1 to 10, where 1 is totally calm and relaxed, and 10 is a full-on case of the puppy zoomies.
When you see your pup's excitement level creeping up to a 7 or 8 during play, help them learn to stop, take a breath, and calm down a bit.
You can do this by modeling calm, relaxed behavior yourself: slow down your movements, blink your eyes softly, and stay quiet or speak only using low, slow tones.
With practice, your pup will quickly learn to take their cues from you that it's times to take a break and settle down.
You can also practice playing "Go Wild & Freeze" with your pup, like Trainer Lauren is doing in this video with Camper Donnie:
#3. They are FRUSTRATED
Just as very young children may feel the desire to hit, slap, or kick when frustrated, young puppies will often use their teeth to display frustration and anger. It is easy to view frustrated biting as a puppy being obnoxious or "bratty." But try to remember that frustration is a really icky emotion, and it is often born from feelings of confusion and/or lack of control about a situation.
How You Can Help Your Puppy:
If you see your puppy becoming frustrated, first try to identify the source of frustration (for example, being restrained, being brushed, having a toy taken away, etc.).
Then, recreate easier versions of that scenario, and reward your puppy for doing whatever it is you'd like them to do INSTEAD of biting and nipping. In the video below, Camper Gizmo learns to accept brushing without getting frustrated and mouthy.
In addition, impulse control games are a great way to help your puppy learn more productive, socially appropriate ways to cope with feelings of frustration.
#4. Your actions say "BITE ME"
There are some things we humans do that are the equivalent of wearing a great big "Bite Me" sign on our backs! Here are a couple of common ones:
Sitting on the floor for prolonged periods of time with an excited, active puppy. Why? When you sit on the floor, you are likely to become a living, breathing climbing apparatus, complete with all kinds of fun knobs and doohickies on which to gnaw and pull: your nose, ears, hair, the strings on your sweatshirt, and more.
Making high-pitched squealing noises and quick, jerky movements. There is a reason puppy toys have squeakers 🙂 . When we make high-pitched noises and quickly pull our hands away from a puppy, they instinctively respond with chasing and nipping.
How You Can Help Your Puppy:
Instead of sitting cross-legged on the floor, try sitting on your knees. This makes it easy for you to quickly straighten up and remove access to your lap if your pup becomes nippy.
Avoid making too many squeal-y, overly excited sounds around your puppy (though a higher pitched "pup-pup-pup" or kissy noise is a great way to entice your puppy to come to you). And, keep your movements controlled. If your puppy nips at you, try freezing instead of jerking your hand away.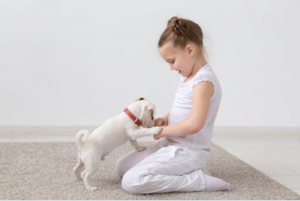 #5. They are saying "NO THANKS" to petting
Many puppies will become bitey or mouthy when you pet them for too long. Sometimes, this can be chalked up to the pup getting overstimulated from all the scritch-scratching, but many other times, your pup is asking you – in the best way they know how – to please give them a break.
How You Can Help Your Puppy:
We don't want puppies to learn that biting and nipping is an effective way to make human hands go away. Instead, we want to teach pups that they can say, "yes, please" or "no, thank you" to petting without having to use their teeth.
Try this:
First, only pet your puppy when they are already calm and relaxed (remember reason #2 – overexcited puppies are more likely to be bitey).
Pet your puppy for just 3-5 seconds at a time, then pause and take your hands away.
If your pup nuzzles or moves toward your hand, pet them again. But, if they move away or just quietly lay in place, they are telling you they don't really care about or want pets at that time.
Over time, you can start to present your open hands to your pup as an invitation that asks, "Would you like some pets?" If they approach and curl into you, that's a great big, "Yes please!" But if they don't, they are saying "No thank you" in a manner that is far less painful than pointy puppy teeth. Watch the video below to learn petting do's and don'ts that work for both puppies AND adult dogs:
How to Greet a Dog Safely: Do's & Don'ts

Stay safe and keep dogs comfortable by following these guidelines when greeting a new dog. Learn 5 things humans do when saying hello that can cause a dog to bite, along with simple guidelines to keep greetings safe and low-stress for all. Remember to ALWAYS ask permission from the owner AND the dog, before saying hello.*Thanks to Helper Dog Mozeez for putting up with our rude greetings for this video. He was paid generously in cookies and hot dogs!*

Posted by Instinct Dog Behavior & Training LLC on Saturday, July 6, 2019
#6. They are just being a PUPPY
Viewing the world as one big chew toy is a normal part of puppy development. Your puppy WILL sometimes try to chew on your fingers and nip your pant legs, even if they are not feeling sleepy, overstimulated, or frustrated.
How You Can Help Your Puppy:
Since your puppy IS going to bite/chew/gnaw on something, be sure to provide them with access to a variety of safe toys, chews, and bones in different textures. This makes it easy for them to make good choices when deciding where to put their needle-sharp teeth.
In addition, providing the opportunity to play with other puppies is a great way to fulfill your puppy's need to bite and mouth as part of play.
BONUS REASON: They have to POOP!
If your puppy suddenly becomes wild-eyed and starts zooming around, biting at your hands, feet, and clothes, they very well may have to go potty. We're not sure exactly why, but many puppies get a little whacky right before the have to poop.
Want our handy "6 Reasons Your Puppy Is Biting You" infographic? Just right click and save the image below!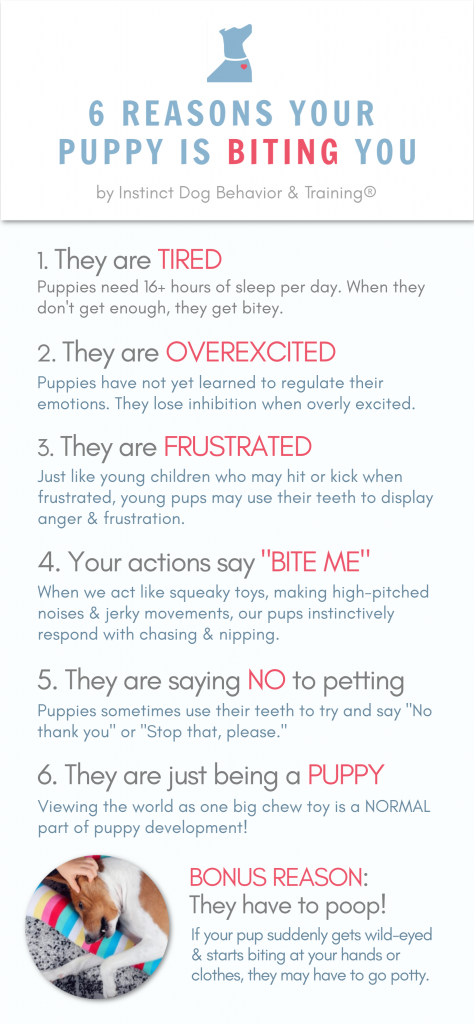 Happy Training!